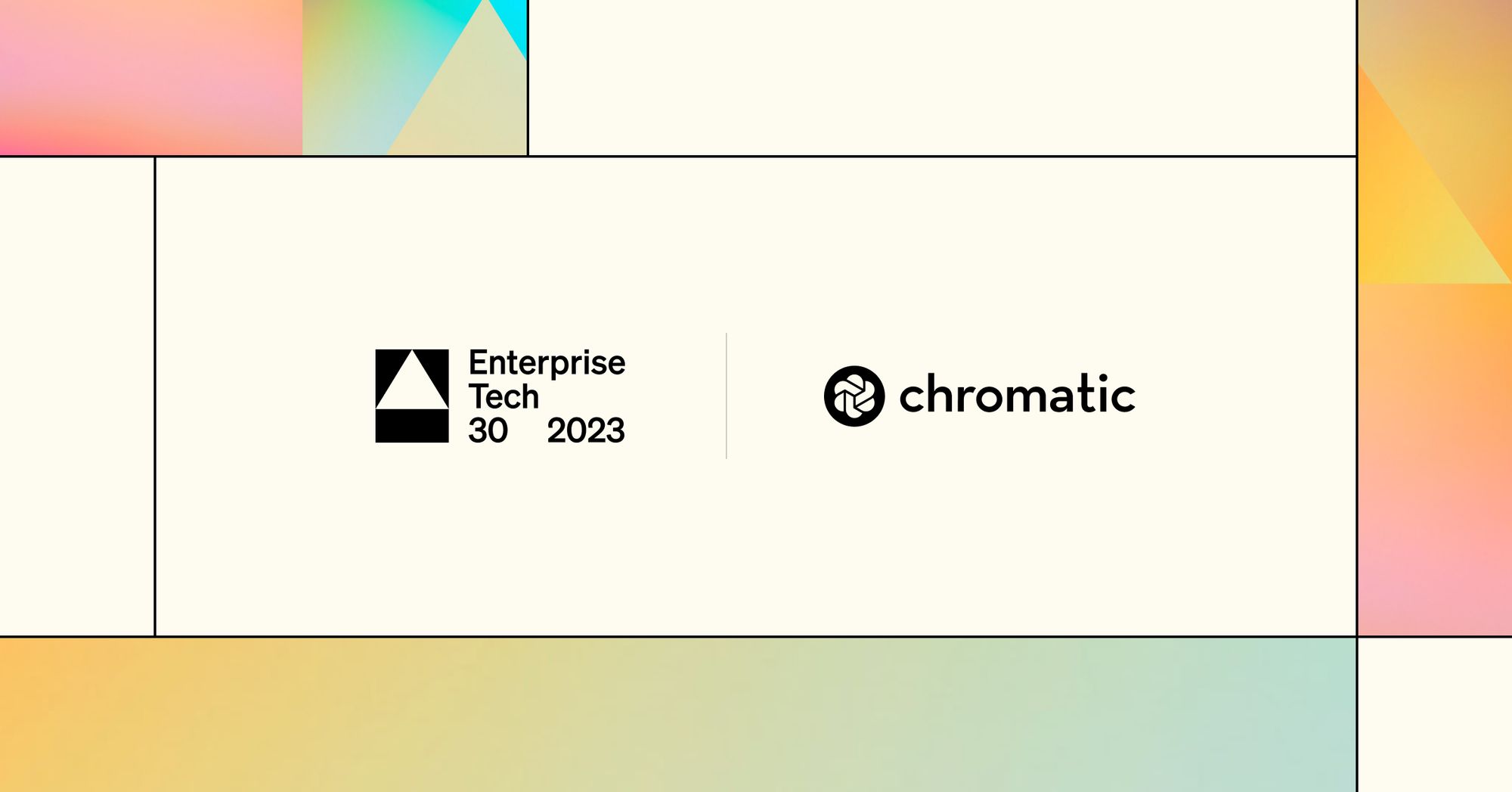 Chromatic named to the Enterprise Tech 30 for 2023
Selected from over 15,000 startups by more than 100 industry leaders
Today, we're thrilled to announce that Chromatic has been named among this year's Enterprise Tech 30.
The Enterprise Tech 30, presented by Wing Venture Capital, recognizes the most promising private enterprise tech companies across all stages of maturity. Choosing from more than 15,000 candidates, over 100 leaders in venture capital and corporate development voted to determine this year's winners.
"The Enterprise Tech 30 list highlights the founders and teams pushing innovation forward and driving change—an especially meaningful effort in a time of rapid flux across tech, and the world," said Peter Wagner, Founding Partner of Wing Venture Capital. "These listees serve as the backbone of how businesses operate and are paving the way for business transformation."
"We're thrilled that Chromatic has been named to the Enterprise Tech 30," said Zoltan Olah, CEO at Chromatic. "This is a powerful endorsement of the quality of our product and of the major value we're providing to teams around the globe. Chromatic's mission is to improve the UX of the Internet, and today marks a major milestone in that journey. Our thanks to our customers, the industry, and our team for this remarkable honor."
Reviewed by top investors, Chromatic ranked 10th within this year's Early Stage category. Learn more.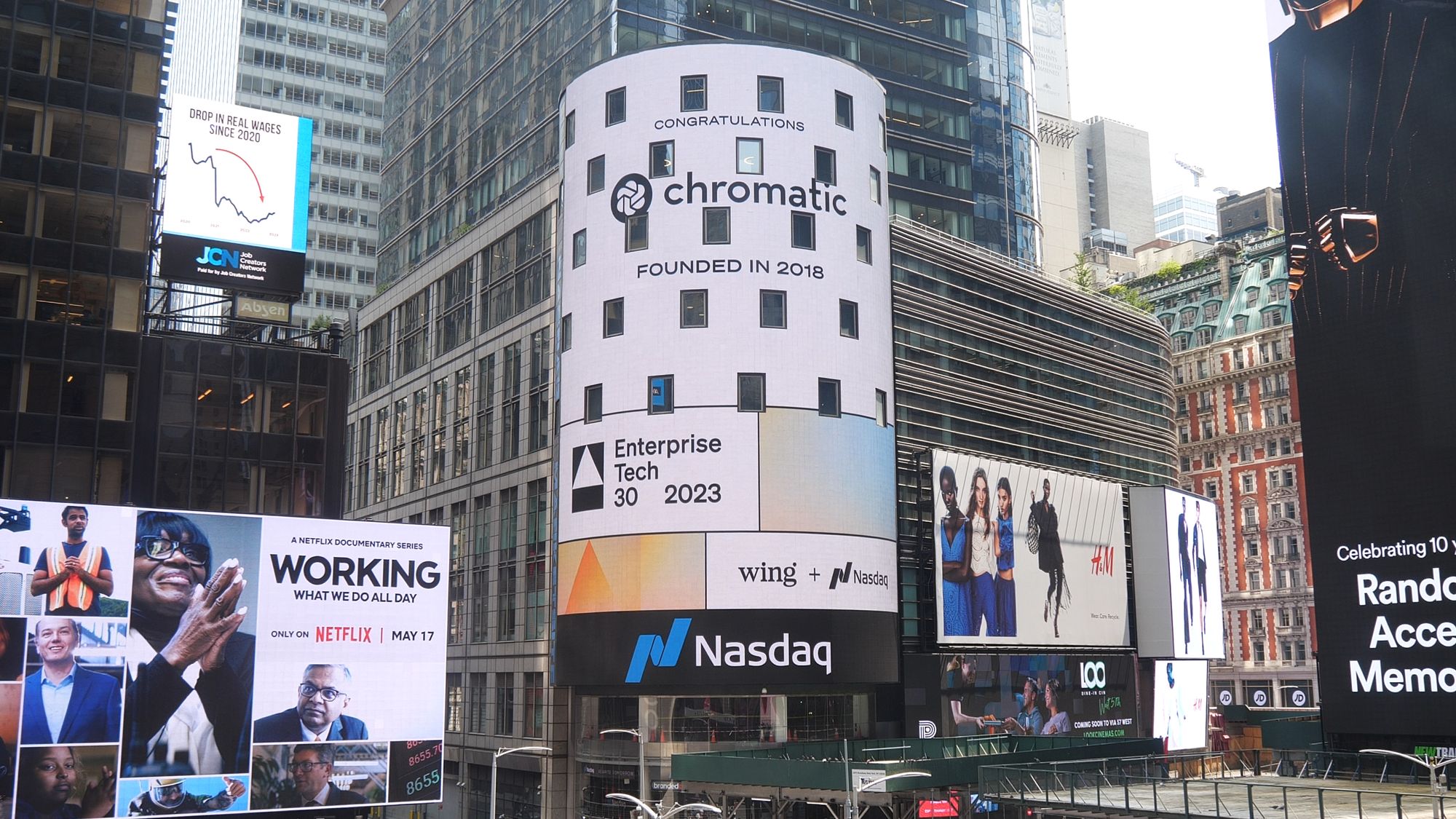 The ET30 report – key findings
Newcomers take the list by storm
67 percent of the cohort in 2023 are new to the Enterprise Tech 30. By comparison, 43 percent were new in 2023, 53 percent were new in 2021, and 50 percent were new in 2020. Five of the companies in the 2023 cohort were founded less than 18 months ago.
Moving fast, making moves
Early stage companies are moving at an unprecedented pace. For the 2023 cohort, the median time since founding for early stage was 2.3 years, as compared to 2.7 years the prior year and five years for 2019.
The median time between the last two rounds raised was 0.6 years for 2023, as compared to one year for 2022 and 1.2 years for 2019.
PLG dominates (again)
The product-led growth model's steady takeover continued this year. 75% (30 of 40) of 2023 ET30 companies employ a significant product-led growth model, and the trend has marched steadily upward since 2019.
Chromatic: improving the UX of the Internet
Built by maintainers of Storybook, the industry-leading open-source tool for UI development, Chromatic is a visual testing and review platform for frontend teams. It streamlines the development lifecycle by scanning every possible state in a user interface and detecting visual bugs right down to the pixel, while also seamlessly integrating into CI/CD and design workflows.
For these reasons and more, Chromatic is trusted by global teams setting the standards for frontend dev – including Monday.com, the BBC, The Guardian, and gov.uk.
To build UIs better than ever before, get started with Chromatic today.
Our thanks to Wing Venture Capital for selecting Chromatic as a leading company in enterprise tech. Find out more about the Enterprise Tech 30 awards.